DOESARE
DOESARE is a relatively new label centered around releasing jams from Florida-bred psych jammers NASA, but more so as a creative extension of the band members side projects, recordings with family members and if I'm not mistaken some friends, too. Right now, the biggest projects seem based around releasing older NASA jams and the brother-duo TONSTARTSBANDHT. There small but perpetually expanding ouvre is a milieu of psychedelic jam sessions, stoner boogies and concise, avant-pop romps. Definitely a group to keep up with as they expand. Check further down the page for the TONSTARTSBANDHT full lengther, An When (it's real good), for a download of that and more info on the label. Onto what's happening now:
"Here's some new boy ecstacy pop. Taking a break from old hat, Tonstartssbandht pass the time with some pop loop experiments. This tape's about freeing dæmons, connecting with everything, bumping the ganz toll, doubling your self and predicting the weather. The Colors represent the sweet spot, and you know you can make it happen so that's pride!" -Dœs Are
So, basically if you heard An When and are expecting the same kind of garage/no-fi Panda Bearish psych-pop then you will probably be let down, which would kind of be your fault because you really shouldn't be pigeonholing people. Full on loops of soaring vocal harmonies. With the longer songs, it works really well, as the loops build and crescendo in a, dare I say, beautiful way. The shorter numbers work as good filler and there is also a good bit of introspective lulling that you can expect, as "bumping the ganz toll" should clearly prepare you for. 30 copies first run, so get yours, sit back and space out.
FREE DOWNLOAD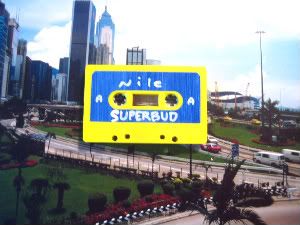 "No antiques here. Quite the
all band
. Two bunnies from
NASA
(Andy White & Sean O'Loane) learning about Cuba... having some food. Total utter utterance control. Pop juice from the barn and I ain't kiddin. Jam this cassette into your boombox and scoop up some friends. You've just found your new faves! SINGLES' SINGLES -- It's like ... IS SINGULARITY GONNA SUCK? Recorded '07-'08."
Side A - 1. "Nile" 2. "BVM"
Side B - 1. "Pineapples"
So this one is obviously a side project of NASA (and TONSTARTSBANDHT) members, and I have to say, it really is great for jamming in a boombox with friends (try it). I've really been digging the Nile single, a Velvet Underground-esque take on the blues/pop/punk formula with some Lou Reed-ish vocal inflections all wrapped up in a hot groove of a pop jam. Funky stuff. BVM serves as a nice connection between the two book ends. Folky pop finger picking meets the cosmos as serene drones compliment it's back ground. In Pineapples we learn about Cuba, somehow. More of those sweet vocal harmonies over a bass heavy dub beat. Electronics, some high-hats, echoes, a little more fingerpicking, melting into a fuzzy pop hook. What's not to like?
FREE DOWNLOAD
Also, check out the other more free-form, psychedelic outing of TONSTARTSBANDHT, the Water Buffalo c30 that is now more or less sold the fuck out.
IM SOLD OUT HERE
FREE DOWNLOAD
Ok, and here is what you can expect in the near future:
NEXT UP:
(DooF)
TONSTARTSSBANDHT
-
DICK NIGHTS
>>>>Available on CDR and cassette on October 1st.
(DooG)
NASA
-
COOLIDGE: IN OVERHEAD
(DooH)
BLANK CHECK FEAT. JUICE
- tba
contact/orders: does.are (AT) gmail (DOT) com
All releases can be found at
Other Music
in NYC. Tonstartssbandht's
An When
and the
Superbud
"Nile" cassingle are available at
Phonopolis
in Montreal
All CDRs available from INSOUND.COM
So they are pretty nice guys, providing free jams and all. They also really appreciate your listening. If you can swing it please go buy a tape, a CD-R or if they are playing somewhere near you (mostly the city of New York and Montreal it seems) then definitely go check it out. It's a good time.
Until then, visti DOESARE on myspace for the goods
DOESARE